Corporate Profile
Company name
Kitajima Sangyo Denki Co., Ltd.
Address
631 Nogisaki, Moriya-shi, Ibaraki, Japan
Incorporation
May11, 1983
Capital
\10,000,000
President
Tokuichi Kitajima
Products & Services
Design and installation of industrial machinery control systems
Design and installation of machine tool electric control systems
Design and installation of PLC and barcode control systems
Design and installation of electric equipment and control panels

History
Established in September, 1970
Incorporated in May, 1983   
New plant competed in Moriya City, Ibaraki

Number of Employees
10
Qualified employees
1 first-class electrical work operation and management engineer
1 second-class electrical work operation and management engineer
3 electric work specialists (Type 1)
2 electric work specialists (Type 2)
1 chief electrical engineer (Type 3)
1 digital installation technician (Type 1)
1 basic system administrator 1 fundamental information technology engineer
Main banks
sukuba Bank, Joyo Bank, Mito Shinkin Bank 
Main clients
Mitsubishi Materials Corporation, LIXIL Corporation, THK Co., Ltd., THK INTECHS Co., Ltd., PanaHome Corporation, IHI Corporation, ASAHI Breweries, Ltd. and other 30 companies

Message from the President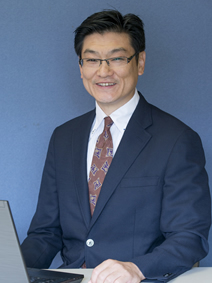 For more than 40 years, since its establishment, Kitajima Sangyo Denki has dedicated itself to manufacturing. We are determined to contribute to society by utilizing the experience and know-how we have accumulated over the years. In these difficult and uncertain times, we work wholeheartedly on every order we receive from our customers, and make every effort at advancement.
We would like to ask for your continued support.
Corporate Philosophy
Create a bright future with our FA control technology
We bring sincerity to every job we do, and are proud to contribute to the manufacturing industry of Japan, which is a technology-oriented country.
Our manufacturing site is our best sales tool
The technology we have developed at our manufacturing site, the quality of our products, and the accuracy of our work schedules, are what bring us future orders. We make the best use of our products to advertise ourselves.
Our efforts are the foundation for our development
We continue to make persistent, steady and productive efforts to grow the company with innovation and ingenuity.
We are always sincere and considerate to others
We let our hopes and dreams inspire our work, and maintain a positive attitude.
Retrofitting Outline and Characteristics
What shape are your machines in these days?
Are they working well?
Are they getting old?
Do they need renewal?
If so, replacement might be the ideal solution, but it is also financially prohibitive given the current, prolonged economic downturn. Therefore, you want to continue using your existing machines for as long as possible.
But you may have one of the following needs or concerns:
Our machine's sequencer is no longer produced. What if it breaks?
Would the use of barcodes be more efficient?
We want to store and maintain production or work data.
Could even inexperienced workers do the work if the operation were simplified?
If this machine were retrofitted with the latest unit, could we still use it?
Kitajima Sangyo Denki works hard to respond to these needs and concerns.
The following are recent examples of retrofitting solutions that we have offered to our customers.

Case 1: PLC retrofitting of cutting machines for a home builder
The machines were used for cutting wooden materials, and the cutting dimensions had to be manually entered. With respect to hardware and software, their operation was controlled by a PC-98, which we replaced with a Mitsubishi Q series model.

Their operation involved manual calculations, requiring experienced operators, which resulted in high costs.
Safety circuit (EMO circuit) configuration was not appropriate.
The screen was difficult to read when inputting data on the PC-98.
Updating the software was extremely difficult, which created problems whenever new products or standards were launched.
None of the machines were still in production, making repair and maintenance difficult to impossible. However, production levels had to be maintained in order to meet customer orders.
The machines were energy inefficient.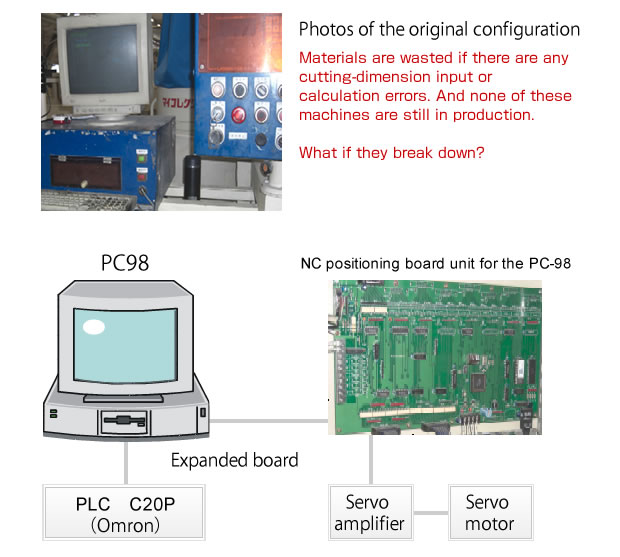 Post-retrofitting characteristics
There is no longer a need to depend on experienced operators, as even inexperienced operators can now operate the machines.
The safety circuit (EMO circuit) now functions properly.
Input errors have declined with the introduction of barcodes.
Software can be quickly updated to meet the requirements of new products or standards.
Machine repair and maintenance can be easily performed.
The machines are now more energy efficient, and do not require soldering.
A combination of FA and IT now allows the operation data's history to be stored and maintained.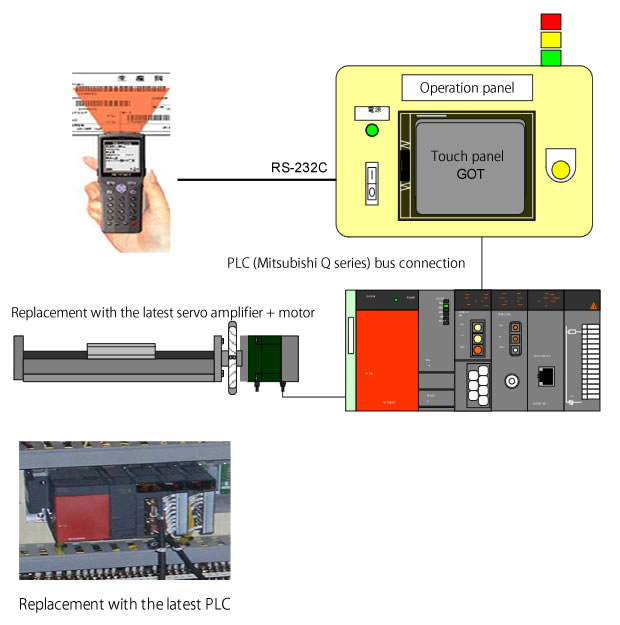 Case 2: Retrofitting of a PLC and peripheral equipment at a plant in Fukushima Prefecture
An older Omron PLC, in a crane-operation control panel, was replaced with a Mitsubishi Q series model. Electromagnetic contactors were also replaced with new ones.
The original machines had the following problems
The PLC output unit had failed, but could not be replaced with the same model, as the model was no longer in production.
The tool required to switch the output address to that of another output port was not available, making it impossible to change software settings.
Given the problems listed above, no employee was willing to assume responsibility for the equipment following the retirement of the employee previously responsible.
A serious accident was in danger of occurring due to the welding of the electromagnetic contactors.
5. As the electromagnetic contactors were no longer in production, repairing them would be nearly impossible once the parts currently in stock were depleted.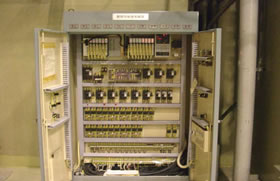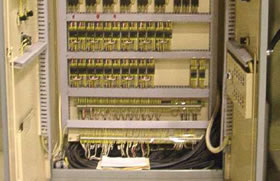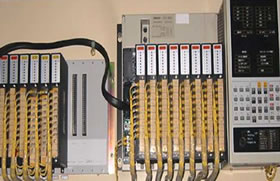 Tests conducted following PLC retrofitting and contactor replacement
On-site test for any problems following the change from the Omron to the Mitsubishi PLC
EMO circuit test
Electromagnetic contactor operation test
Machine interlock test
The items above were retested by the customer, under emergency power
Post-retrofitting characteristics
The PLC failure rate has declined.
It is now possible to change the address of the PLC output unit in case of failure.
Responsible maintenance can be provided.
The electromagnetic contactors failure rate has declined.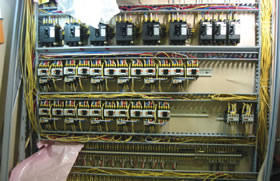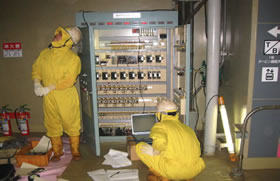 On-site program check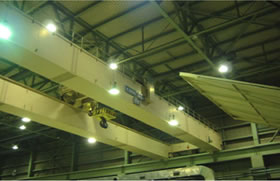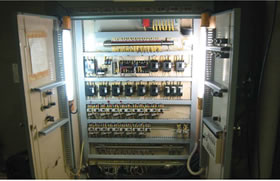 Retrofitting completed
Control Design and Manufacture of PLCs
Photos of control panel manufacture and installation
We are proud of having supplied our control panels to leading companies in Japan, including automobile and semiconductor manufacturers, and steel producers. We commit ourselves to constant improvement in quality.



Next-generation Industrial Robot Control by Combining FA and IT
Controlling transfer robots
Industrial robots are expected to play a greater role in our immediate environment in the future. Located in Moriya City, a gateway to Tsukuba (the 'City of Robots'), Kitajima Sangyo Denki is seeking to expand our business in this area, to become an industrial robot supplier.
System configuration
- PLC (Q series)
- Robot (RV-2F-Q) + Connection controller (CR750-Q)
- Touch panel
- Barcode reader
- Air hand
System outline
We have created a transfer robot control system. Based on this system, we would like to develop robot controls that work with peripheral equipment.
Our principal goal is to develop robots which can help customers in various business sectors, by combining robots with vision sensors and control technology such as camera calibration and tracking functions.